Are Your Zoho Books Bank Feeds Broken?
The Banking module in Zoho Books can obtain the transactions in the form of so-called Bank Feeds. Once you add an account from the list of banks available, Zoho Books will receive the transactions directly from the bank, effectively eliminating manual input. 
To set up the bank feeds, you select a bank (and Zoho Books has the connectors for many of them), then enter the bank credentials and Zoho Books will start receiving the transactions. 
Or won't start — for many reasons. The official list of the Zoho Books Bank Feed Errors has more than 100 exception codes, so you definitely won't get bored if something goes wrong. In my case, it was the exception code 412 — "We could not update your account due to an error with the bank's website." Not too self-explanatory, right?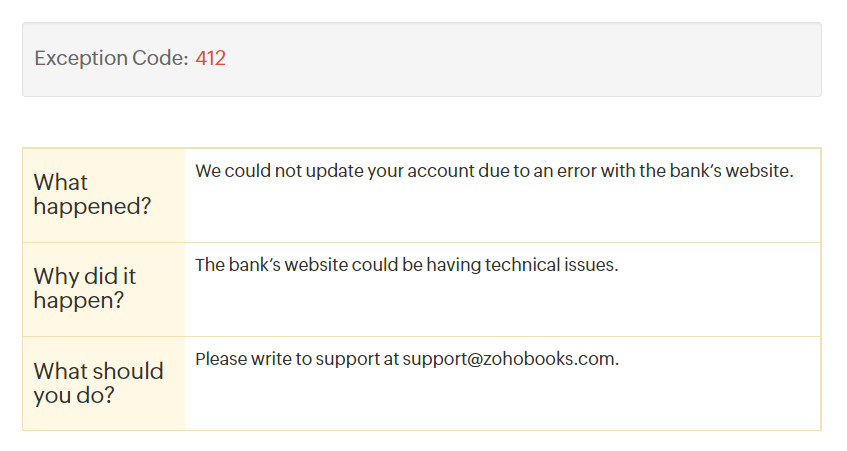 Zoho Books Exception Code 412 and Chase Bank
I hadn't noticed the error at first — only at the end of the month when I went to reconcile the accounts. Obviously, I did all the basic troubleshooting on my end to fix the error: I double-checked the credentials, I made sure that the Chase's URL that Zoho uses for the login is valid and accessible: https://secure07b.chase.com/web/auth/dashboard. I sent tons of requests to both the Chase and Zoho support, and they were trying to find the reason, but all was futile. Finally, I gave up because neither I nor both the support teams saw the way to fix it. 
Serendipity
My colleague Margarita is a cybersecurity specialist. One fine day, we talked about banking security, and somewhere in the conversation, a phrase about IP addresses slipped unattended. A bit later, it occurred to me that maybe something on Chase's end prevented Zoho from logging in. After all, my customers never have had any problems with Zoho Books bank feeds.
What could it be? It couldn't be the 2FA, because I would see the messages. Long story short, I went to my Chase account… and discovered that I had enabled that damn IP Security option two months ago — with only one IP address allowlisted. My IP address, duh! 
Bottom Line
That case effectively demonstrates the mind inertia as we know it. I knew how the bank feed works. I obviously knew that the IP filtering will disallow all the connections to Chase bank from the unlisted IP addresses. After all, I enabled it myself. I am pretty sure that both of the support teams also knew that it could be the reason — but no one thought of recalling it.
However, if not that random talk about cybersecurity, I'd still be entering transactions manually. 
If you need any help with Zoho Books implementation or you just have a question about it — feel free to contact me at any time.