A few months past, Zoho Flow, one of the key apps in the growing Zoho ecosystem, commemorated its fifth year since its unveiling. During this time, it has grown from a modest drag-and-drop builder equipped to handle a mere 100 applications to a vital hub for business integration, now proficiently managing over 800 applications. Core features such as custom functions, automatic reruns, and error branches have become integral to the platform. 
In keeping with this trend of growth and improvement, this update proudly heralds the addition of five further advancements to the platform:
Zoho Flow Export Task History
The History section in Zoho Flow serves as a record of every flow execution in your organization from the last 90 days. Should a flow failed at a certain step, it can be selected and run again to retry the failed steps.
For deeper analysis, execution history can now be exported as a CSV file. Simply click on Export History, and a download link for the chosen time period will be sent to your email.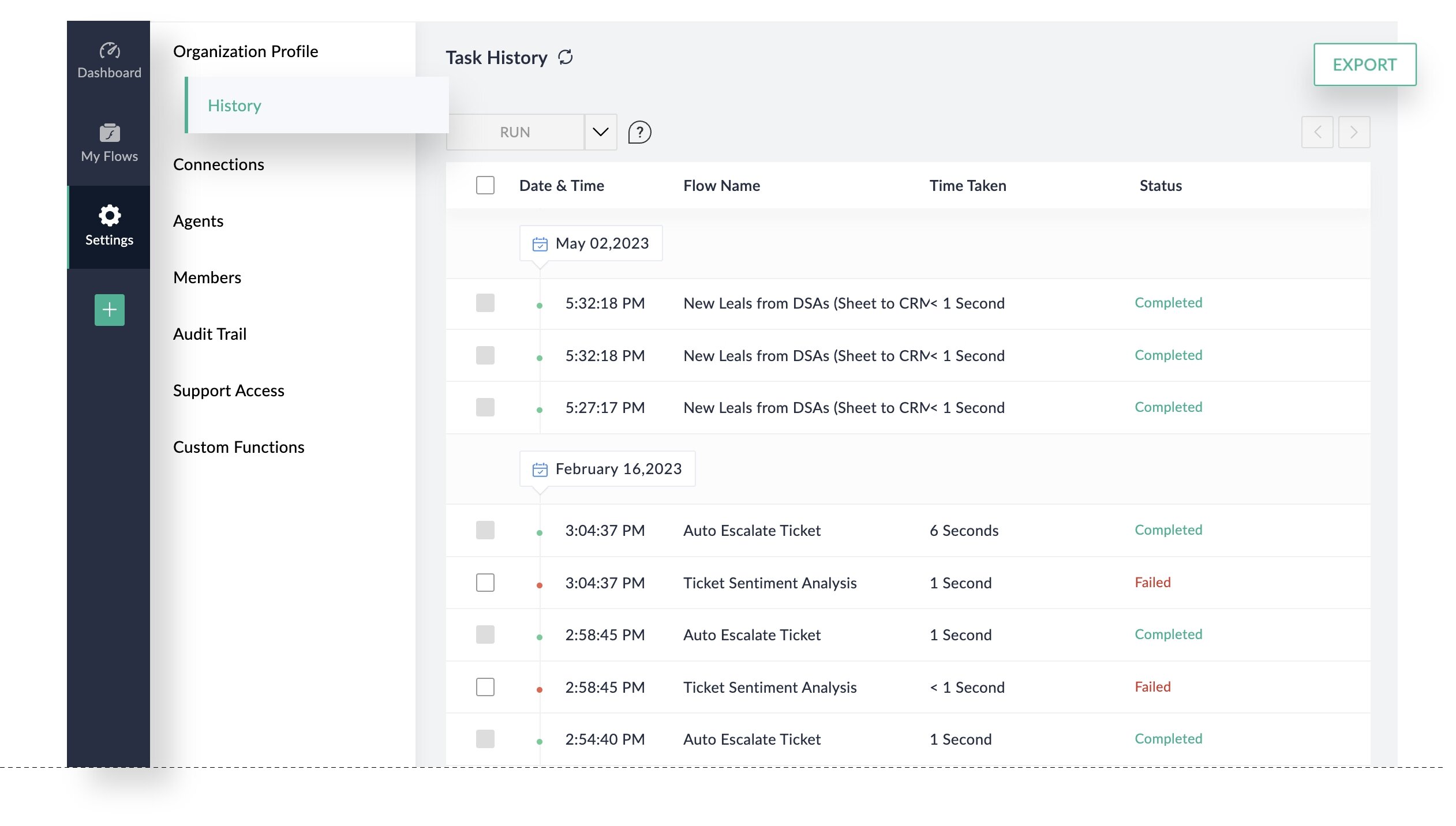 Restarting the Failed Flows
Amother super-convenien update is  feature that allows you to restart the entire flow, not just the failed steps.
Imagine a scenario where you're extracting data from Zoho Forms, adding a contact in Zoho CRM, triggering a Zoho Cliq notification, and generating a Zoho Desk ticket. If the flow hits a snag while trying to send the Cliq notification and subsequent auto-reruns are unsuccessful, the following step (generating a Desk ticket) will not be carried out. 
However, if you select the flow and "resume" it, the flow gets another shot from the failed step. Zoho Flow will try again to send a Cliq notification, and if it succeeds, the flow will continue to generate the Desk ticket.
Now, there may be instances where you'd want the whole flow to get another go for the failed instance, using the data from the original trigger. In this case, simply choose to restart the flow. This means all actions in the flow, including CRM, Cliq, and Desk, will be reattempted.
Zoho Flow Folders
Finally! It's been a long time. You know, every more or less serious implementation requires more than a single flow. And if you have more than a single flow, you want to organize them somehow. And now, you can neatly arrange your flows into suitable folders and even subfolders!
Zoho Flow Custom functions list
All your custom functions are now accessible in one convenient location. Quickly modify, test, and update your custom functions directly from the Custom Function section in Settings.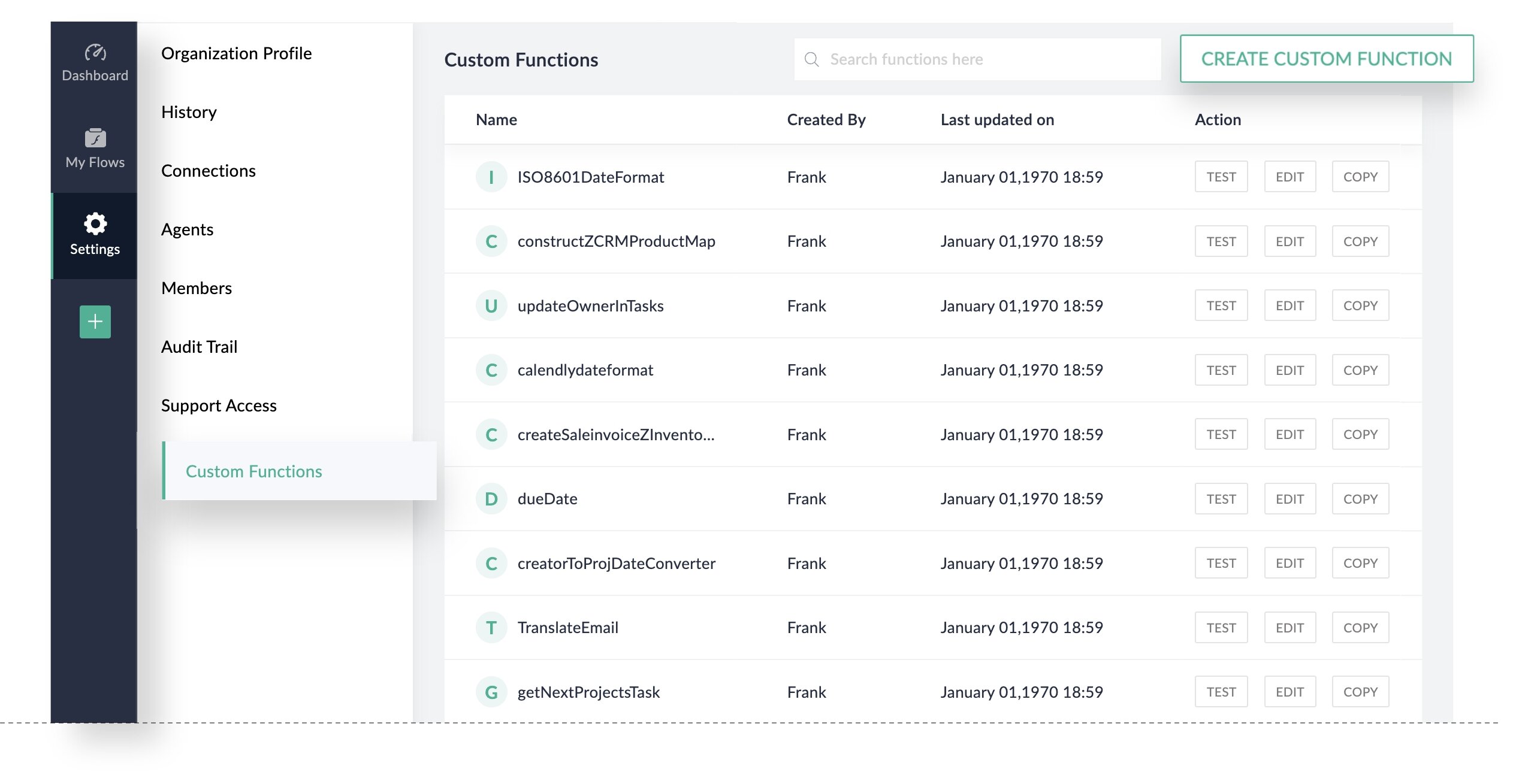 Date format conversions
No more headaches with mismatched date formats between apps! Zoho Flow now makes it simpler to align these formats without needing a custom function.
Imagine you're integrating customers from an e-commerce store like Shopify or WooCommerce into Zoho CRM. The store uses an MM-DD-YYYY date format, while Zoho CRM uses DD-MM-YYYY. Once you pull data from the ecommerce store, you can now easily set Zoho Flow to convert the date to match the format expected by Zoho CRM. So, in this case, you'd select the DD-MM-YYYY format.
But it doesn't stop at formatting. You can also align time zones between apps. Simply pick the timezone of your input app—Shopify/WooCommerce, for example—and Zoho Flow will convert the date according to the timezone you want in your output app, in this example, Zoho CRM.
Sounds Good? 
With this update, the user experience on the Flow platform will be far better than before and  yes, our developer experience will be better, too. If you need help integrating Zoho products with anything that 1) works and 2) has an API, contact us. We use Zoho Flow every day. 
We Know a Thing or Two
Because We've Seen a Thing or Two
Illustrations, screenshots, and video in this post are courtesy of Zoho